Many caregivers now find themselves working from home, and caring for a loved one with dementia while being isolated from extended family, friends, and resources like daycare and activity centres. We speak to Rishi Gupta, from SilverActivities, to discuss solutions that can help support engagement for persons with dementia while they are at home, especially during this period.
SilverActivities develops easy-to-use products and applications for the elderly to enable increased independence, avoid social isolation, and stay engaged.
Their products include online games, senior-friendly tablets, and a suite of cognitive games specially designed for the elderly in Singapore. Working closely with local nursing homes and senior care centres, the team identifies the needs through constant feedback and develops appropriate activities.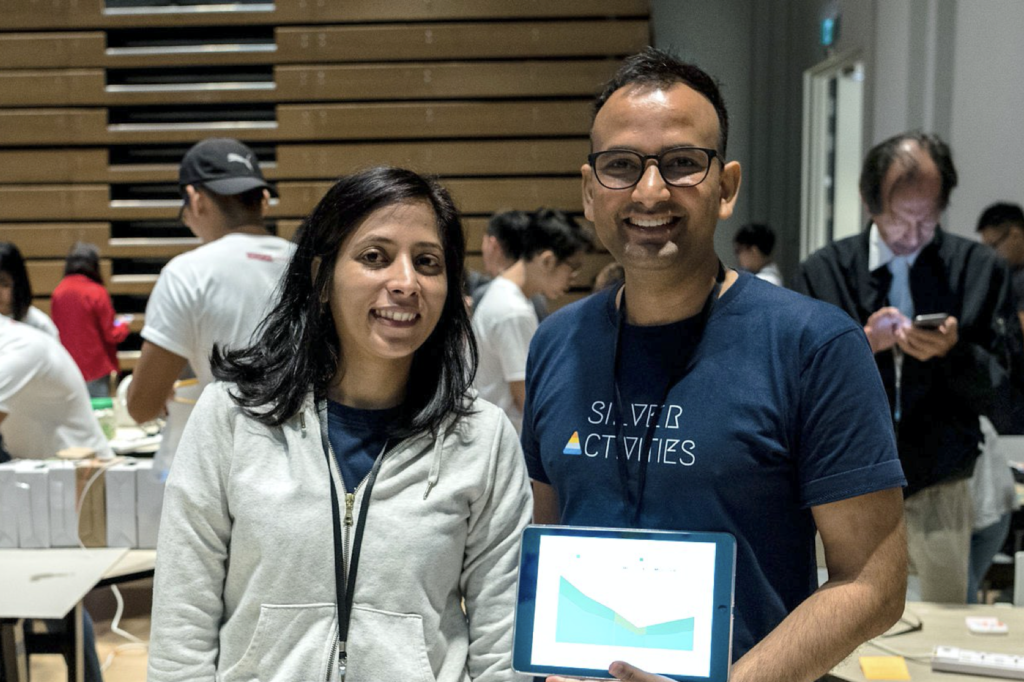 Can you share some tips for families caring for a loved one with dementia during Covid-19?
Covid-19 has disrupted many aspects of our life, unlike anything we have experienced before. It is a very difficult time for active seniors let alone for those who have been diagnosed with dementia. We recommend looking for products and activities that are familiar, enjoyable, age-appropriate, and relevant to the person with dementia.
We have technological products that have helped to keep the elderly engaged and connected to family and friends. Even though technology has not been preferred as the primary mode of engaging persons with dementia, given the current social distancing measures, it has become vital for caregivers to identify activities that can be used to engage loved ones with dementia digitally.
How are families using SilverActivities at home?
One of the primary products designed for persons with Dementia is SilverSheets – printable PDF sheets. We have developed a variety of activities that can be printed at home to be used to engage the elderly.
Many caregivers have downloaded sample sheets and purchased several types of sheets. Since we have added difficulty levels for most of our printable activities, caregivers can use appropriate levels to engage persons with dementia considering their cognitive level and stage of dementia.
Another product that many care providers use is our senior-friendly tablet (SilverPad) that comes with a) cognitive games, b) one-touch video call, and c) remote content management system.
We have received positive feedback on our cognitive games, multilingual and simplistic design of the interface, and ease of use of SilverPad.
Can you share more about the selection of activities and games for persons with dementia?
We want to make our solutions accessible to everyone who might need extra support with engaging their loved one with dementia. We provide an array of activities, a mixture of free and paid sets that can be found on our platform.
Digital Activities and Interactive Games [FREE]
There are over 55 free activities that can be used by caregivers on a tablet/desktop for one-to-one engagement with persons with dementia. We have added activities under categories such as reminiscence, memory, and visual and auditory, etc. https://silveractivities.com/games-for-elderly/
SilverSheets [PAID]
We have created dementia-friendly printable worksheets such as Picture Crosswords, Maths, Chinese Word Search, and many more with different difficulty levels. The price of these sheets ranges between $5-$15. Upon purchase, caregivers will receive a PDF, which can be printed at home. https://silveractivities.com/sheets/
SilverPad [PAID]
SilverPad is a senior-friendly tablet that hides the complexities and allows for an easy-to-navigate interface to enable the elderly to independently operate a tablet. SilverPad comes with SilverActivities cognitive games with a focus on cognitive training. These games are locally relevant with multilingual voice-overs that have been designed specifically for the elderly in Singapore. It also includes a one-touch video call feature to help stay connected. https://silveractivities.com/silverpad/
Digital Short Stories [FREE]
We worked with a local elementary school Lodestar Montessori School to write short stories for the elderly. These stories were written for SilverActivities by children between ages 7-9. The stories are available in both English and Chinese. https://silveractivities.com/story-book/
Any words of encouragement for our community of caregivers?
We understand that it is a difficult and unprecedented time for everyone and more for the caregivers. We will get through this and hopefully go back to our normal ways of life soon. But until this happens, we will recommend caregivers to have an open mind and look for helpful activities online.
There are plenty of such resources to make use of. They could create a daily routine for the elderly that involves both physical and cognitive exercises. There are many activity centres like the Alzheimer's Disease Association (ADA) that are conducting regular weekly events through group video calls especially for persons with dementia. Find one which appeals most to the elderly and encourage them to participate in it.
Interested in checking out the activities and games offered by SilverActivities? Visit silveractivities.com to learn more. You can also chat with the team on their website or email them at hello@silveractivities.com if you have any questions Get SG$10 OFF with a minimum purchase of SG$ 20 on any of their products. Use the discount code: PROJECTWEFORGOT