A blend of emotions and thoughts caring for mum who has dementia. "Grab these moments and memories and put them in your pocket. I promise you that one day you're going to be glad you did.
By Terry Jaconski Dirienzi
It's easy to pass this lady off as a fashion model. But she isn't.
Elena is 64-years-old and was diagnosed with Younger-Onset Alzheimer's and Frontotemporal Dementia eight years ago. She was always a wild dresser and a huge fan of design and the arts. Having gone to fashion school in California before her two daughters Ana and Lexi Shoemaker were born, she pursued an artist's career throughout her life.
At home, she would often be seen making clothing and art. Her daughters remember how she used to stitch matching dolls and clothes for them as they were growing up. Their childhood was always full of support with creativity and the arts.
As the illness progressed, Ana and Lexi missed being able to share something with their mom and were having trouble dealing with the fact that they could no longer connect. Her daughters decided to give their mom a fashion-makeover and the transformation is a remarkable one.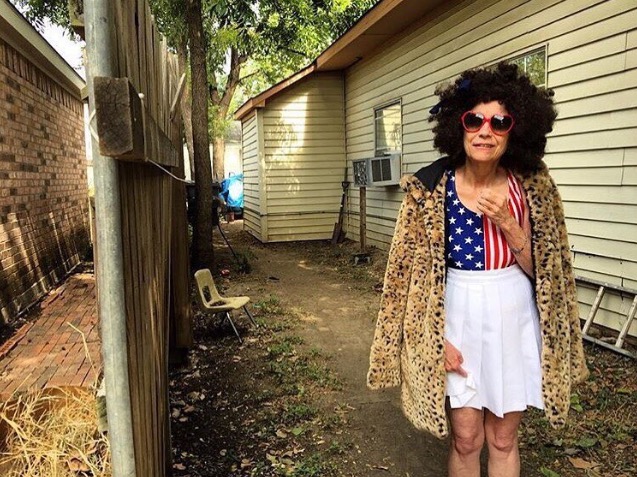 "I think when some one is sick its easy to forget who they were. Its easy to just say "oh she is gone she can't really participate in anything any more", but to me, I saw the opposite."
"I had this vision of dressing her up in the most colourful outfits and celebrating her life. What happened after was amazing. She came to life. My sister and I had found a way to spend time with her together doing something that engaged her."
"My mom was always trying to make life fun, teaching us to live in the moment, so starting ALZ Is Fierce is about celebrating her and not just disregarding her."
Alzheimer's is a fierce disease and we are fiercely healing from the loss of our mother. This project lets her be who she was in the costumes, be who she is in this moment, and still be freaking fierce at fighting the illness." "You can choose to grieve or you can choose to celebrate but most of the time it goes both ways. It's just how you deal with it. The series of pictures represents a way for us to celebrate our mom right where she is, to embrace the beauty of change."
"We believe that as much as this illness is terrible, the individuals with it can still be beautiful and full of life."
"The pictures say all the words my mom can no longer say."
"We can only do this with her visible comfort, trust and consent. We wouldn't have it any other way. When we do shoots we watch her energy levels very closely as well as her mood and take plenty of break on her cues. Loving on her, I imagine gives her the feeling of being important to us. She is forever our sweet queen mommy."
Read more on Lexi and Ana's journey here.