Daniel Lim was 30 years old, and building a career for himself in Singapore. Everything changed when his father was diagnosed with dementia. Daniel is now his family's sole breadwinner and main caregiver to his parents.
By Daniel Lim
"That's when it hit me – we were in financial hardship".
Before my Dad had dementia – he was a business owner who retired way too early to become a caregiver for his own mother. This meant that he never had much money stashed away for his CPF (pension). Additionally, my Mum – a former nurse – never believed in the importance of medical insurance. That was when it hit me – I was the sole breadwinner, and we were in financial hardship.
"What did I know about caregiving?"
Being the only child, I felt like the invisible third patient in a family of three. And being young – what did I know about caregiving? The burden of our financial difficulties was lurking in my mind 24/7. I was under a tremendous amount of physical and psychological stress. It was driving me up the wall.
To cope, I was eating way too much junk food, and had grown out of shape. I was awfully negative, and often in denial with a "why me?" attitude. I was highly irritable and impatient. I did not rest enough. I slept very little each night. I was angry at both my parents and started socially isolating myself. As resources became strained from balancing work and caregiving, my wellbeing was also impacted tremendously.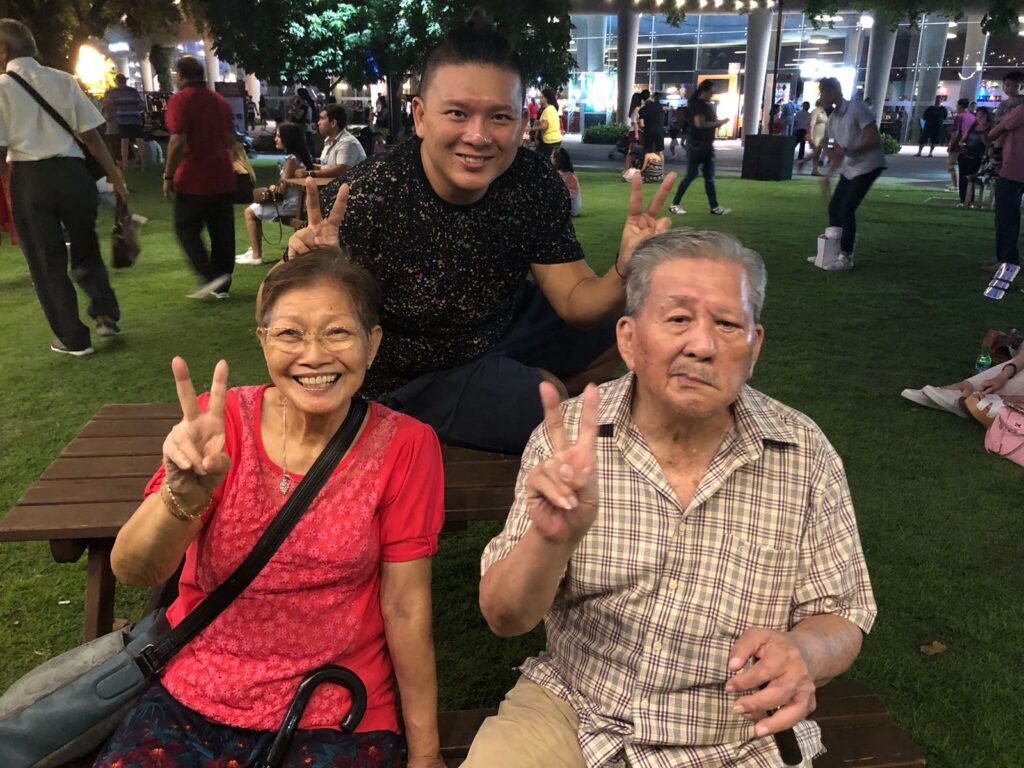 Speaking out at work really helps.
I thought of leaving my full-time job to become the full-time caregiver to my parents. Looking back, I am glad that I didn't. I perfectly understood that my job was the only thing putting food on the table. I did not have a better option. As my father's dementia progressed, my role as a caregiver became more challenging. I spoke to my former manager and told him about my role and needs as a caregiver to my parents. He understood – and so did the senior management of the organisation I was working for.
It is crucial to speak out and allow others into our world as a caregiver. So speak out – because it really helps. I spoke with so many colleagues back then about my situation, and not only did they understand, they rallied behind me, and even went the extra mile to raise funds for my family. Beautiful, isn't it?
A day in the life of a working caregiver
Being a working caregiver meant that I used up most of my annual leave to care for my parents. Fortunately, after speaking out – I was given some flexible work arrangement at my job. Here's an example of how my day was like as a caregiver
I would come into the office right after Mum and Dad had their breakfast. Then, I would leave early for lunch around 11.45am. For weeks, I took extended lunch hours. During then, I would pick up my parents and head for the hospital – where my Dad would go for geriatric tests and assessments while my Mum went for radiotherapy and chemotherapy. After sending them home, I would return to work around 3pm, and stay until 7pm when I had to go get takeaway dinner for my parents at home..
Our financial situation was still tough. The gig economy didn't even exist back then. There was no Uber, or Grab, which I could have driven for to earn a precious side income. But I had a car, which I used to ferry my parents to their hospital appointments. In the evening, I would put my parents to bed at 9.30pm. Then, I would head out to pick up friends and colleagues who a ride home after work, or a night out on the town. They would put money into a little tin container in my car and say, "Daniel, this is for the petrol". I am glad I had support this way.
"A win at work is a win at home".
Even while being a caregiver, achievement at work meant a lot to me. I was working for the LASALLE College of the Arts back then, and I was fortunate that not only did my employers understand what I was going through, they also did not let my caregiving get in the way of my career progression.
They encouraged me to apply for a scholarship to fund my further studies. Which I did. And with their support, I got it! I felt a great sense of gratitude towards them, and that drove me to work hard and attain a distinction for my MBA. With their support, I was able to achieve success at work. A win at work is a win at home. I was only able to do this because my employer knew about my situation and because I was honest and transparent with my family's needs.
Even after I served my time with LASALLE, my new employers gave me similar opportunities to work on exciting projects that greatly benefited the local education industry and embark on further training and studies. Looking back on the last 10 years – I never stopped learning, upgrading my professional skills, and meeting new people.
It's ok to say "I can't handle it anymore"
Back at that initial and critical period, I put everything in my life on hold for my parents. I did not have a life back then. But the support I got at work helped me to improve the quality of care and life for my parents.
I still hold a full-time job at present. Yet, as a caregiver – I still face very real challenges on a daily basis. I try to balance my caregiving with other demands, including having a career and maintaining personal relationships. Caring for a person with dementia is more stressful than what many would realise – and juggling that with work is a diverse and complex challenge.
When I share my caregiving journey with others for the first time, they usually ask me: "How do you even keep your sanity in check?", and "How do you find that balance?". What I do is ask for help, and actively seek for it. It's ok to say "I can't handle it anymore", which is what I do these days.
So step up, and speak out. You'll be surprised.
In the next part of Daniel's story, he shares his journey towards recovering and maintaining his emotional well-being.