Ensuring the best quality of life for your loved one can be overwhelming—but the right approach would help you make an informed decision.
By Sriyani Rao
Making the choice between dementia home care and nursing homes is never easy for family caregivers. Many questions and concerns go into making these big decisions; quality of care and cost are some of the main factors to consider. Most family caregivers would want their loved one to receive dementia care in the comfort of their own home, while others may opt for 24/7 access to medical care and services that nursing home facilities offer.
We've put together some thoughts below to help you feel less overwhelmed and better informed in making the best decision for your loved one.
What type of help do you need?
Deciding the type of care your loved one needs is essential before making the choice between home care and a nursing home. Start with the three questions below—your answers will help ease the decision-making process.
Do you need someone to help around the house and assist with daily living activities such as medication reminders, meal preparation, personal grooming and companionship?
Does your loved one require palliative care or specialized medical assistance?
Do you need help for a couple of hours a day or 24/7?
The questions above form a starting point for drawing the scope of care your loved one needs. Read on to learn more about the advantages and drawbacks of dementia home care and nursing homes.
Care in the comfort of your home
Popularly known as the more convenient option, dementia home care is gaining traction fast in Malaysia. Leading care providers such as CARE Concierge and Homage Malaysia offer the services of nurses, caregivers and medically trained professionals on a full-time or part-time basis at reasonable pricing.
"It would be wise to establish a care plan that is tailored to the likes, dislikes and personality of your loved one."
Ideal for family caregivers who need respite from time to time, dementia home care provides the flexibility of care services that can start from as short as an hour at a time. The scope of care services can range from dispensing medication and meal preparation to palliative care and tube feeding.
Your loved would receive personalized, expert care from a single care professional (also known as a 'care pro') in the comfort of your own home. These care pros are familiar with the stages of dementia and Alzheimer's disease, and trained to cope with changes in behavior.
It would be wise to establish a care plan that is tailored to the likes, dislikes and personality of your loved one. This could even include looking at photo albums, listening to music or reading out loud. If possible, get to know the care pro that would be looking after your loved one. This is important to ensure that your loved one is comfortable with the person looking after them.
Daycare centres – an alternative solution
Ideal for family caregivers who are employed full-time or simply as a means to take a break from caregiving duties, daycare centres is a great alternative. Dementia daycare centres in Malaysia such as Caring With You provides an enrichment program that incorporates cognitive, physical, social and sensory stimulation. The aim of their program is to help your loved one feel happy and fulfilled, while distracting them from negative thoughts that trigger anxiety and despair.
The current Dementia Therapeutic Daycare Centre in Ipoh also offers cognitive rehabilitation for persons with dementia and training for family caregivers.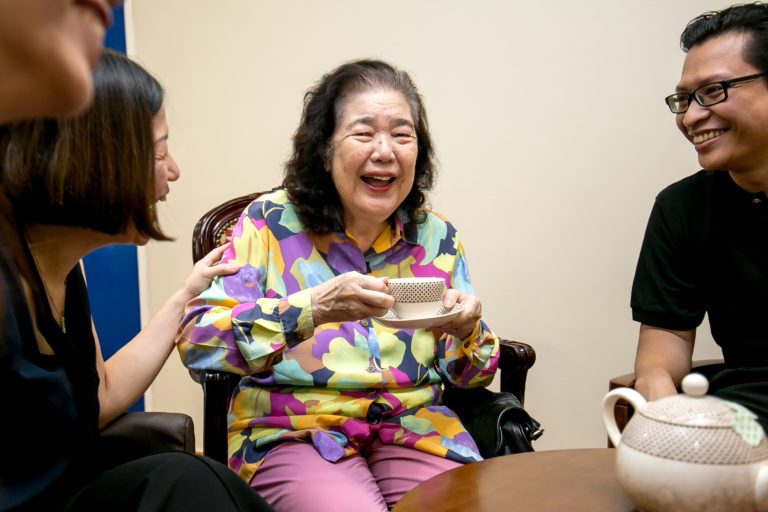 When to opt for a dementia nursing home
If you have reached the point where you are unable to provide or facilitate the care that your loved one needs, then it may be worth considering long-term professional care. Feeling a sense of guilt? It is natural to feel unsure, confused, even guilty but remember—you are acting in the best interests of your loved one to receive the care they need to live well.

Commonly perceived as long-term care, dementia nursing homes offer similar services as home care providers but with additional benefits. These benefits include 24/7 on-site support from registered nurses or medical practitioners, transportation for doctor's appointments, and engaging group activities with other residents.
Compared to home care, dementia nursing homes can be costly and may lack the flexibility of a tailored care plan. Your loved one would be living away from home with other residents, following the same daily schedule. It can take time for your loved one (and yourself) to adjust and embrace the new environment and change in way of living.
Considering the turmoil of emotions that come with having to opt for a nursing home, it is worth exploring all other options beforehand. Talk to other family caregivers who are going through the same struggle—it may help to hear how they have dealt with this difficult situation.
Tip: It is highly recommended to visit selected nursing homes before making a choice. Ask questions to determine the quality of their care services, frequency of activities and general perception from other residents.
Maintaining the best quality of life
After considering all the options, it comes down to ensuring the quality of life for your loved one. We hope the pointers above paint a clearer picture of deciding between dementia home care and nursing homes. Curious to hear what other caregivers think? Weigh in on the discussion in the Project We Forgot Dementia Community.
In conjunction with World Alzheimer's Month this September, Project We Forgot (PWF) Malaysia and Homage Malaysia are organizing a screening of the film, Ninaivirukkum Varai (Till the last memory) to highlight the journey of dementia and its impact on caregivers. The screening will take place on 26 September, 2019 at WeWork Equatorial Plaza in Kuala Lumpur. Register now to be part of this special event!
Project We Forgot (PWF) Malaysia is supported by the Rotary Club Luxembourg Hearts.